Hi all, I'm new here, but you seem to know what you're talking about and I could really use some help (even though it's not a Starship model...).
I'm a complete beginner when it comes to electronics, but I'd like to add some lighting effects to un upcoming project of mine (I'd like to practice and source materials before I do the real thing).
The project is a Warhammer 40,000 army (Necrons if you're curious), and I'd like to light up some of the models using LEDs/fibre optics/other simple lights. Since the models are pretty small, the circuits and power supply need to be small and simple.
Here is the size of one of the models: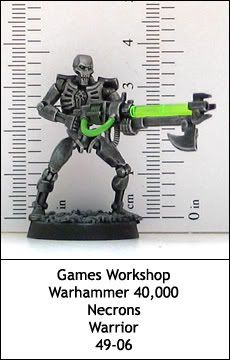 I'd like to light up the green tube in his gun, and his eyes if I could manage it.
Also, I'd like to light up these guys (among other things):
But that's most of what I'd be planning to do.
Can anyone help with how I'd do this?